A local service for individuals and professionals in downtown Montpellier.
We offer our laundry pick-up service in the center of Montpellier. Your laundry is washed, folded and ready to be put away in 48 hours!
An ecological ecological approach
All our couriers travel only by bicycle to limit our carbon footprint.
We only use ECOCERT® detergent to treat your laundry.
Our goal is to offer the best service with the greatest respect for the environment.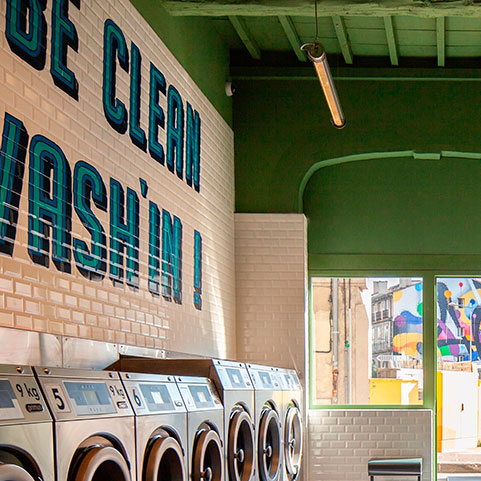 A strong social commitment
Our deliverers are all WASHiN employees.
WASHiN is a privileged partner of the following structures: GAMMES, Interlude, Adages, Habitat Jeune...
Our rates
(including VAT)
Single comforter :
15€ l'unité
Double comforter :
20€ l'unité
Do you have an idea of how much your clothes weigh?
An adult jean 
800 to 1000 g
One adult cotton pant 500 g
One pair of adult jogging pants 350 g
One shirt or blouse 200 g
One adult cotton pyjama 250 g
A tailor-made offer just for you!
You can choose the program we will use from our 6 wash and 3 dry programs:
CLASSIC 60°
Cotton/mixed fabrics
15° WOOL
Fragile clothing
HOT 90°
Resistant linen / White
LOW
TEMPERATURE
(40°C)


AVERAGE
TEMPERATURE
(55°C)


HIGH
TEMPERATURE
(70°C)
DELIVERY IS FREE !
We process your laundry within 48 hours.
*WASHiN declines all responsibility for any damage to the laundry caused by the choice of washing and drying programs. WASHiN strictly applies the instructions given by the customer at the time of the order. 
Payment is made only by credit card when we deliver your treated linen to your home or workplace! We do not accept cash or checks.
In order to protect our customers and our teams safely, everyone is currently working to follow the guidelines of government and health authorities. In this context, cleanliness remains a priority for everyone.    
MANDATORY MASKS WORN BY OUR TEAMS
All our WASHiN couriers wear a compliant mask at all times of the day.
HAND DISINFECTION BETWEEN EACH CLIENT
Strict measures are put in place with our couriers, so that they can disinfect their hands after each customer.
REINFORCED CLEANING MEASURES IN OUR WORKSHOP
Increased cleaning frequencies, complete disinfection of machines and dryers, in addition to deep cleaning of the laundry. Our collection bags are washed at 60°C before each delivery.
Sort your laundry by bag according to the desired program 
Example:
Bag 1: Color Program
Bag 2: Wool program 
Weigh or estimate the weight
of each bag (each must weigh at least 5kg)
Example:
Bag 1 : 5kg
Bag 2 : 7kg
Contact us via the form contact form
We will confirm your order via email / phone
We come to pick up the laundry according to the chosen date
We process your laundry in 48 hours!
We deliver your linen and you pay the amount (fixed in advance) by credit card.