In France, several types of campsites along our roads vacation : these institutions are traditionally classified by their number of stars, issued for 5 years, by control bodies. These criteria guarantee a certain level of quality and equipment for the campers. In this race to the stars, why not adopt a service " Premium " that's sure to delight your users ? With a laundry connected to WASHiN, the chore of the cloth becomes anecdotal and the feedback from your clients on this service : rave review... ! Presentation.
For the campsites, the race to the stars ?
A ranking of the campsites revised July 2019
Until now governed by the decree of 6 July 2010the procedure and requirements for the classification of campsites in France have been the subject of a revision with a new arrested on April 10, 2019. The surface sites is a major factor in the allocation of the stars : if their number may not exceed 100 per hectare for an establishment of a star, it goes down to 80 for a 4 star hotel, and 70 for a 5-star.
If all campsites must be maintained and cleanthe electrical connection is not imposed for the establishments of 1 or 2 stars. Beyond these fundamentals, there is a grid of more than 200 criteria, to determine the category of the establishment. Attention, this attribution is not required even if it provides a cue for campers...
Des étoiles, garantes d'un niveau de qualité et d'équipement
From 4-star campsites must meet a number of obligations. Already, in terms of the servicessince they should offer a desk, with a continuously 24 h/24 h and at least 2 languages, including English (3 to a 5 star), as well as a website and support information.
These institutions must also provide specific equipment, as for example, a point of restoration and supply, a playground for the children, but also health equipped individual treatment rooms (showers heated to a 5 star) and equipment for extra comfort, as the washing machine.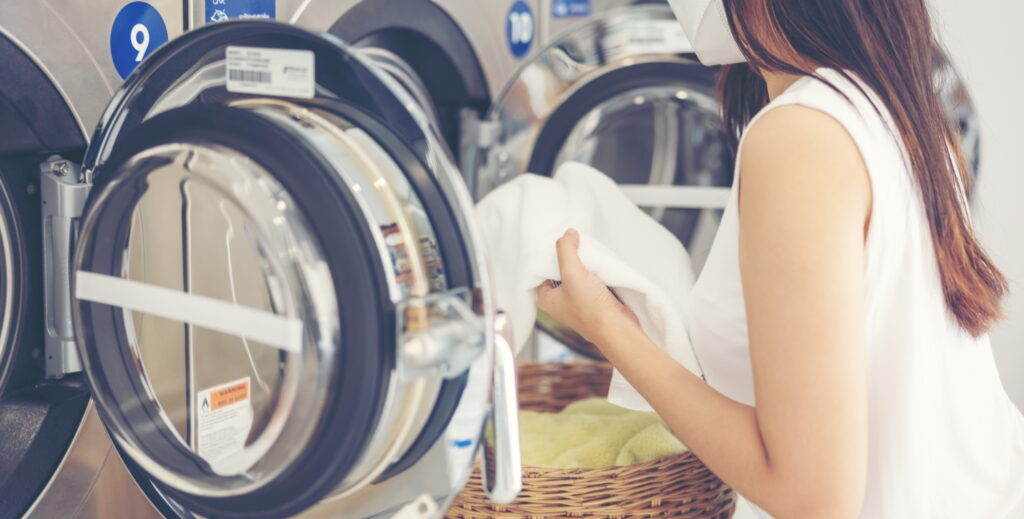 WASHiN, a service star for your users !
A campsite with a laundry classic
With accommodation in a mobile home, tiny house, or in a tent, all campers will appreciate the presence of a laundry in the campsite, to clean their linens during their stay, without having to take account of the climatic conditions.
But, it is clear that they face many of the same drawbacks that a laundromat in town : the obligation to make the currency (or pick up the tokens to the home), the management cycles by staying close to the machines, the time of their operation, not to mention the requirement of the laundry place it in the drum.
In practical terms, this is equivalent to dedicate a significant amount of time at this spot housewifethen it might be taken advantage of in a much better way...
A campsite with a laundry connected to WASHiN
By opting for a laundry connected to WASHiN, you free your users of this constraint, time and logistics : quickly, this service will deserve a star, at least in the heart of your campers !
Specifically, since the application, they only have to book the machine, pay for the chosen program (several payment methods are available) and slide the machine to the appointed time. No need to provide laundry, a dose is automatically paid. Therefore, campers can attend to other occupations more sympathetic : a mail the warn of the end of the cycle (it is even possible to see it is during the process).
The company WASHiN also offers various options, to accompany this service, the "Premium" in your camping : do not hesitate to contact us if you are considering an installation of a laundry connected !
About WASHiN...
If WASHiN has an experience of 29 years in laundromats, she is the first solution of laundry connected in France. Resolutely green, you team machines are top of the range, optimizing constantly their energy needs, and a laundry Ecocert designed with natural raw materials. A commitment to nature not that echo to the rules of life set by most of the campsites.
How about you talk together ?